JPEG to PDF
Convert online and free JPEG to PDF
Uploaded filetype:
Choose filetype:
Advert:
The conversion of jpeg files to pdf is mostly used when scans come into play. If you just scanned your document (or maybe a couple of them) and want to put them into one file – our JPEG to PDF tool may help you.
How to convert jpeg to pdf?
Simply upload your .jpeg file and click convert – the conversion will immediately start and your .pdf file will be ready in a few seconds.
PDF files are in most cases the better way to share your documents:
the size of a pdf file is most likely smaller than the size of your jpeg
printing pdf files will give a certain size and output – whereas jpeg does not
a pdf file can contain more than one page
pdf files cannot be changed so easily
And what's more – sharing documents with pdf is a standard in modern communication – most companies are awaiting your CV and additional documents in the compact PDF format.
Beware of the file size:
Converting jpg to pdf can result in large file sizes – that's why we give you the choice to select a "DPI" value. DPI is a unit for measuring the resolution and quality of a image or pdf. 150 dpi is mostly sufficient for all documents to be printed and viewed on a computer.
Looking for smaller pdf files?
Once you've converted your image to pdf – you might experience the file being too big. To reduce the size of your pdf file you can use our tool Compress pdf.
Guide: Convert JPEG to PDF online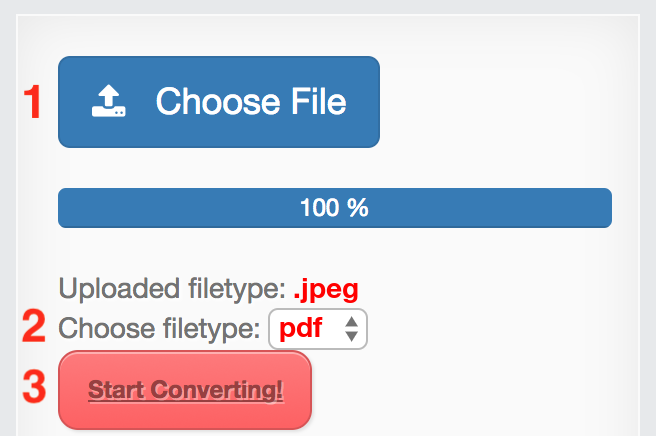 Choose input JPEG file
Check target filetype and change if required (PDF)
Hit the "Start Converting!" Button
That's it! Your download will start automatically on the following page
Currently we support the following conversions with JPEG files:
All Converters
Video-Tutorial: JPEG to PDF
File-Converter-Online.com is a service for converting files online from one type to another. We take care of your privacy and take care of your files. As a part of this, there's no registration required on file-converter-online.com. As we're offering our service in a browser, it does'nt matter whether you use Windows, Apple OS X or Linux. Your conversion results will always be at the same, very high quality and of course, without watermarks.